1875-CC
CC Below Wreath
Variety 113
Obverse 8: Medium Level Date, Die Cracks Through OF AMERICA
Reverse D: Small CC, [mm C,L,TL3], Early Die State
Collar: 113 Reeds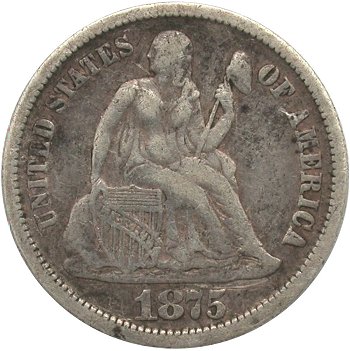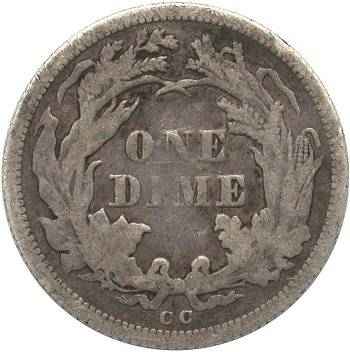 Obverse 8 Reverse D
Obverse Diagnostic Point(s) Reverse Diagnostic Point(s)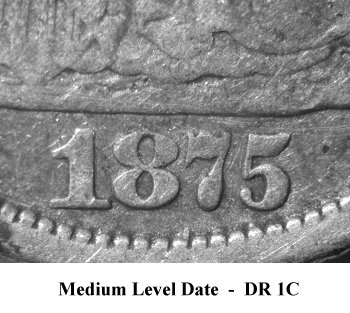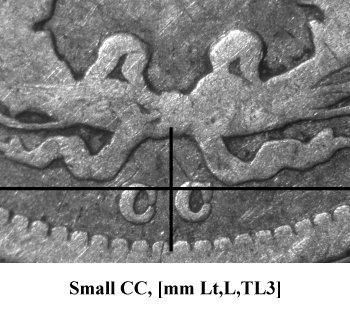 Comments: Variety 113 results from a pairing of In Wreath Obverse 5 and Below Wreath Reverse D. This variety was first flagged by Harry Smith as a Below Wreath variety with unknown obverse die and shown to the author at the 2010 Boston ANA Convention. Upon further inspection, the obverse die was confirmed as In Wreath Obverse 5 due to the long die crack down through (OF AMERICA) and into Liberty's foot.
To properly follow the obverse die naming convention for 1875-CC IW and BW chapters, this obverse is designated as Below Wreath Obverse 8.
Previous/Subsequent Die Pairings - Below Wreath Obverse 8
The earliest die pairing known for BW Obverse 8 is with IW Reverse H during its late die state designated as H.3. Then the obverse die is paired with BW Reverse D (BW Variety 113 listing) followed by another die marriage with IW Reverse B. I suspect that this last known pairing with IW Reverse B resulted in significant coinage being struck and the die crack through OF AMERICA becomes quite pronounced.
Previous/Subsequent Die Pairings - Below Wreath Reverse D
BW Reverse D, in an early die state, is initially paired with BW Obverse 3 during its terminal die state (large cud below date) followed by this die pairing. Afterwards, BW Reverse D is paired with BW Obverse 6 until the obverse die also develops a large cud below the date.
Plate Coin: Courtesy Harry Smith Collection, VF20