1875-CC
CC Below Wreath
Variety 107
Obverse 6: High Date, Downward Slope, Die Crack Through Bottom of Date
Reverse D.2: Cracked Die, Small CC, [mm Lt,L,TL3]
Collar: 113 Reeds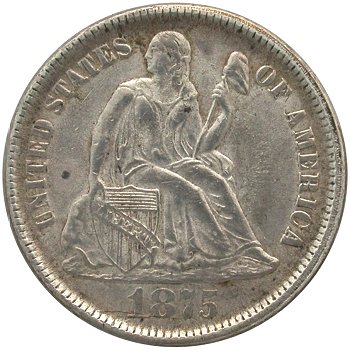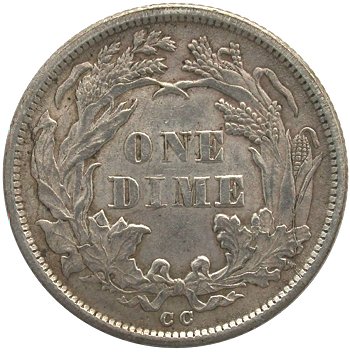 Obverse 6 Reverse D.2
Obverse Diagnostic Point(s) Reverse Diagnostic Point(s)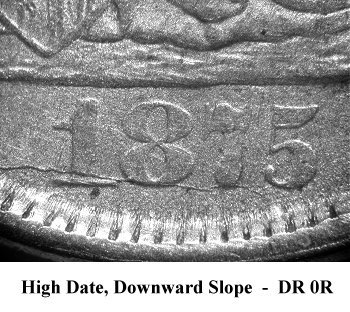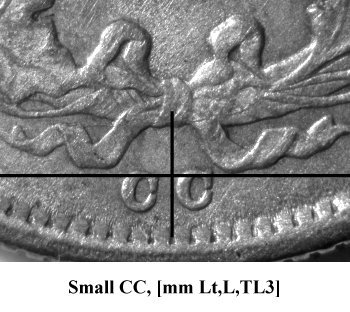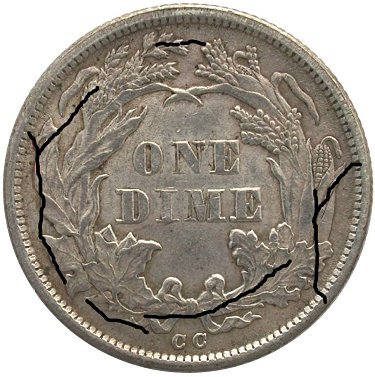 Comments: During the pairing of Obverse 6 and Reverse D, both dies are in late die states. Obverse 6 shows severe die erosion on the denticles and within the shield. The die crack that originated during Obverse 6 pairing with an In Wreath reverse die (Variety 104), continues to increase in severity and fully connects the bottom of the 187 digits. Reverse D is cracked throughout. The CC mintmark punches are well spaced as compared to other Below Wreath reverse dies and facilitate easy attribution of Reverse D.
Previous/Subsequent Die Pairings - Below Wreath Obverse 6
BW Obverse 6 was previously paired with three In Wreath obverse dies. Sequentially, those pairing are IW Varieties 112, 103 and 104. During the In Wreath reverse pairings, this obverse is labeled as IW Obverse 3. BW Obverse 6 continues its die cracking below the date until a terminate die state cud appears. Please see BW Variety 107a for illustrations of the terminal die state.
Previous/Subsequent Die Pairings - Below Wreath Reverse D
BW Reverse D, in an early die state, is initially paired with BW Obverse 3 during its terminal die state (large cud below date). Afterwards, BW Reverse D is paired with BW Obverse 6 until the die also develops a large cud below the date. This occurence is listed as BW Variety 107a.
Special Note
Since Reverse D has the dubious distinction of being paired with two Below Wreath obverse dies in their terminal die states, then let's take a closer look at the formation of date die cracks that lead to cuds. The BW Obverse 6 die crack, though similar to the one on BW Obverse 3, is in a slightly difference position and can be used as the important diagnostic marker for BW Obverse 6. Please see below comparison of die crack positions through date punches for BW Obverse 3 and BW Obverse 6.
Below Wreath Obverse 3 Below Wreath Obverse 6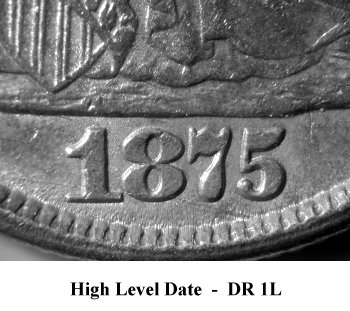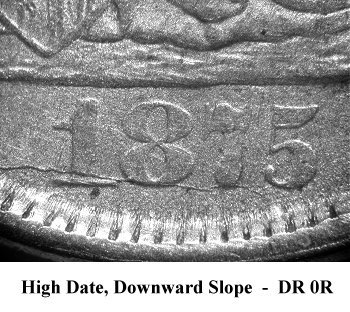 Plate Coin: G. Fortin Collection, AU50