1875-CC
CC Below Wreath
Variety 105
Obverse 4: Late Die State, High Date, Downward Slope
Reverse B: Small CC, [mm C,L,TL2], Vertical Die Lines Right DIM(E)
Collar: 113 Reeds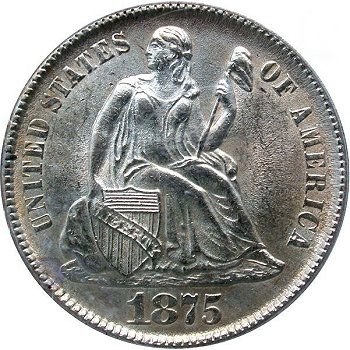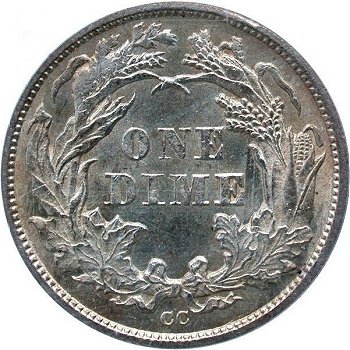 Obverse 4 Reverse B
Obverse Diagnostic Point(s) Reverse Diagnostic Point(s)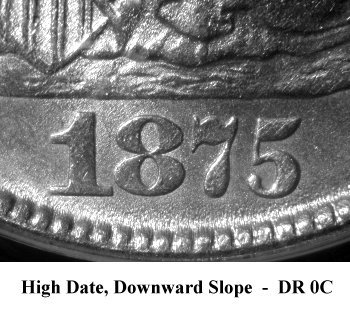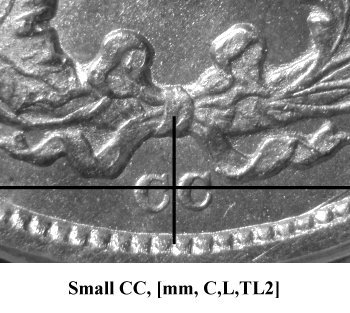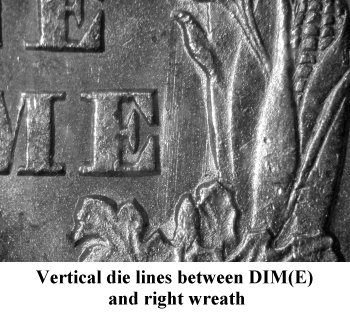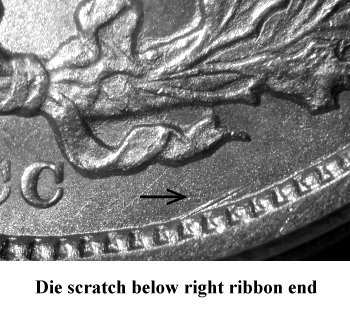 Comments: Obverse 4 is still found in late die state during die marriage with Reverse B. The Small CC mintmark on Reverse B is centered under the bow knot and tilts left. Reverse B is in an early die state with multiple diagnostic point. The most obvious is a long group of vertical die lines between DIM(E) and the right wreath. There is also an obvious die scratch below the right ribbon end.
Previous/Subsequent Die Pairings - Below Wreath Obverse 4
BW Obverse 4 was first paired with IW Reverse G and labeled as IW Obverse 8. It remains paired with IW Reverse G into a later die state where significant denticle erosion under the date shifts the Denticle Ruler measurement from DR 0C to DR 0R. During this later die state, BW Obverse 4 is paired with two incremental Below Wreath reverse dies to produce BW Variety 104 and this variety.
Previous/Subsequent Die Pairings - Below Wreath Reverse B
Reverse B during its earliest die state was previously paired with BW Obverse 1 followed by this pairing. The characteristic vertical die lines are still visible during this die pairing and will disappear during the last die marriage with BW Obverse 3.
Special Note
One must carefully examine the mintmark position and tilt in order to separate examples of Variety 105 (earlier die state Reverse B) from Variety 104 (Reverse C). On Reverse B, the vertical die lines are on the right side of the die while for Reverse C, the vertical die lines are on the left side of the die. Please see mintmark position and vertical die lines illustrations below.
Below Wreath Reverse B Below Wreath Reverse C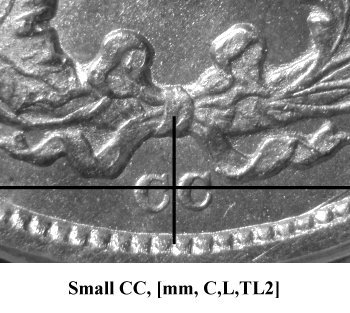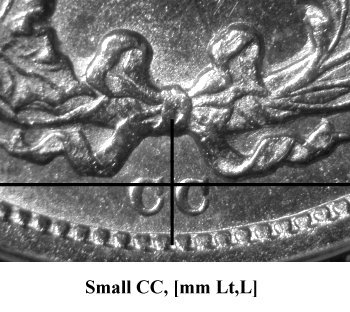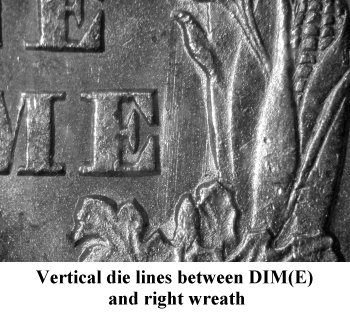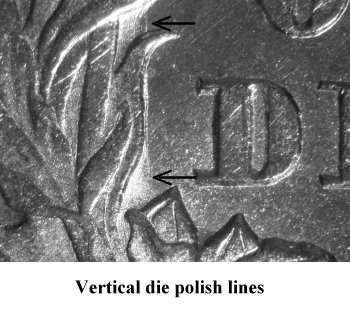 Plate Coin: G. Fortin Collection, PCGS MS63