1875-CC
CC Below Wreath
Variety 106
Obverse 5: Medium Date, Slight Downward Slope
Reverse C: Small CC, [mm Lt,L]
Collar: 113 Reeds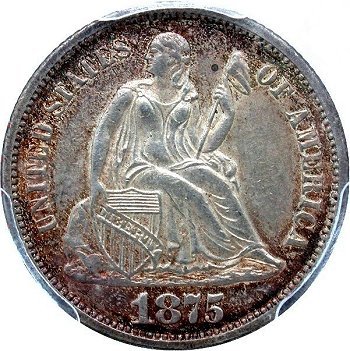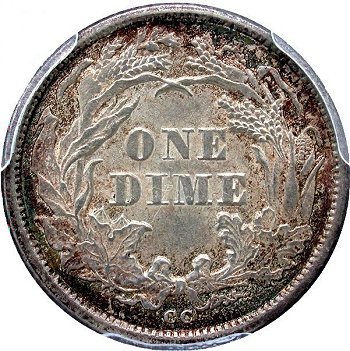 Obverse 5 Reverse C
Obverse Diagnostic Point(s) Reverse Diagnostic Point(s)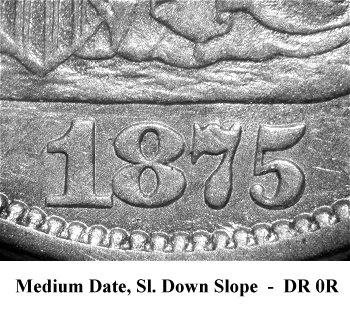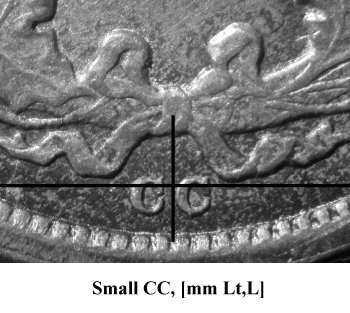 Comments: Obverse 5 exhibits a medium date with slight downward slope along with several other die markers (die defect and die scratches) but no die cracks at this point. I previously documented the die markers for a later Obverse 5 die pairing with In Wreath reverse. Readers can access those markers here.
Previous/Subsequent Die Pairings - Below Wreath Obverse 5
Obverse 5 is in an early die state during initially pairing with BW Reverse C. This obverse will be paired with an In Wreath reverse die as is subsequently labeled as IW Obverse 11. Early definition of the die crack is visible on BW Varieties 106a and 106b. Therefore the majority of dimes struck with this obverse die will be seen with a Below Wreath reverse.
Previous/Subsequent Die Pairings - Below Wreath Reverse C
Reverse C was previously paired with BW Obverse 4, then a pairing with BW Obverse 5. While paired with Obverse 5, Reverse C continues to degrade and develops a significant die crack in the lower left wreath that will eventually become a full retained cud during terminal die state. Please see the listings of BW Variety 106a and BW Variety 106b for the die's end of life sequence.
Plate Coin: G. Fortin Collection, PCGS AU55