1875-CC
CC Below Wreath
Variety 112
Obverse 3.2: Retained Die Cud, High Level Date
Reverse D: Small CC, [mm C,L,TL3], Early Die State
Collar: 113 Reeds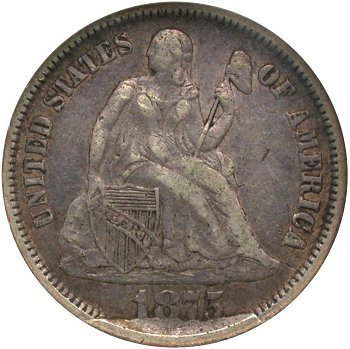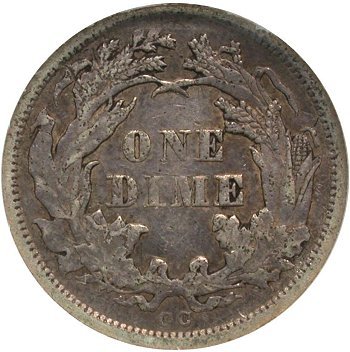 Obverse 3.2 Reverse D
Comments: Previously, on Variety 103, a die crack was shown to run from the rim to the left of the date and through the base of the 187 digits and back to the rim below the 5 digit. When paired with an early die state Reverse D, Obverse 3 has degraded further as shown through the above plate coin. The area below the date has developed into a large cud that extends through the base of the 5 digit to the rim.
Previous/Subsequent Die Pairings - Below Wreath Obverse 3
During an early die state, Obverse 3 was previously paired with IW Reverse I (and listed as IW Obverse 9) and exhibited a faint die crack below the date digits and a die crack from Liberty's foot into AMER(ICA). Afterwards, Obverse 3 is paired with BW Reverse B with the obverse die crack below date becoming progressively worst. Finally during this die state, the obverse die shatters directly below the date die crack resulting is a spectacular die cud.
Previous/Subsequent Die Pairings - Below Wreath Reverse D
BW Reverse D, in an early die state, is initially paired with BW Obverse 3 during its terminal die state (large cud below date). Afterwards, BW Reverse D is paired with BW Obverse 6 until the die also develops a large cud below the date.
The plate coin was first listed for auction in the May 2005 Heritage St Louis Bullet Sale and subsequently published by Tim Cook in the #93 issue of the Gobrecht Journal.
Plate Coin: Dr. Tim Cook Collection, VF35