1875-CC
CC Below Wreath
Variety 102a
Obverse 2.2: Die Cracks, High Date, Downward Slope
Reverse A: Small CC, [mm Lt,C,TL2], Minor Die Cracks
Collar: 113 Reeds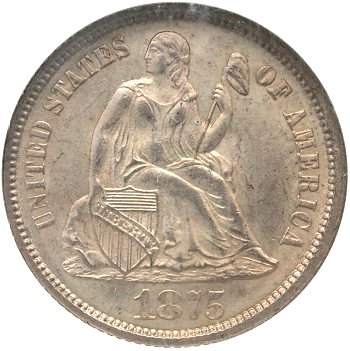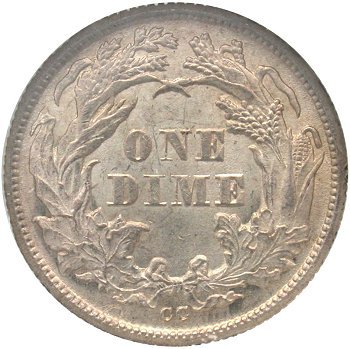 Obverse 2.2 Reverse A
Obverse Diagnostic Point(s) Reverse Diagnostic Point(s)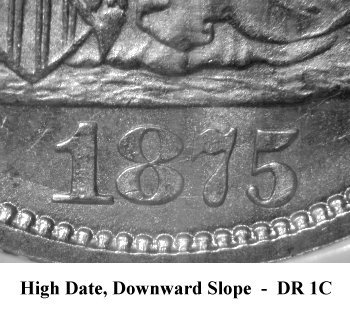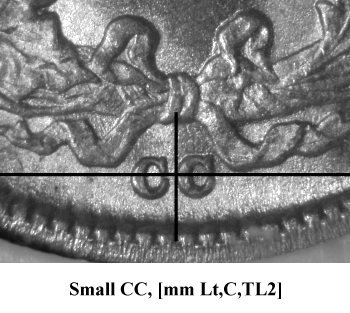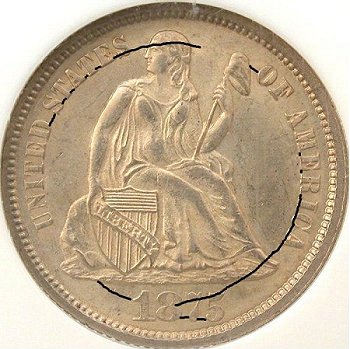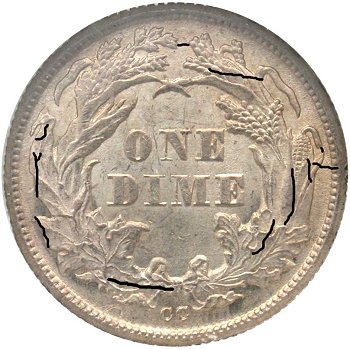 Comments: Obverse 2 develops a radial die crack that passes through the bottom of the legend and through the date digits. These die cracks are illustrated above. Variety 102a is part of the Top 100 Liberty Seated Dime Varieties set that is actively pursued by variety specialists.
Previous/Subsequent Die Pairings - Below Wreath Obverse 2
Obverse 2 will be employed in a subsequent die pairing with three additional In Wreath reverse dies. During those pairing, I have listed this obverse die as IW Obverse 7. When striking In Wreath dimes, Obverse 2 continues to degrade with the radial die cracks becoming obvious until the die reaches a terminal die state with shelf metal forming at the date punch.
Previous/Subsequent Die Pairings - Below Wreath Reverse A
Reverse A was previously paired with BW Obverse 1. When paired with Obverse 2 the reverse die exhibits minor die cracks throughout the wreath. I've chosen to map those die cracks (per above illustration) as supporting diagnostics for further study of later Reverse A die pairings that might arise.
Plate Coin: G. Fortin Collection, NGC MS64