1875-CC
CC Below Wreath
Variety 102
Obverse 2: High Date, Downward Slope
Reverse A: Small CC, [mm Lt,C,TL2]
Collar: 113 Reeds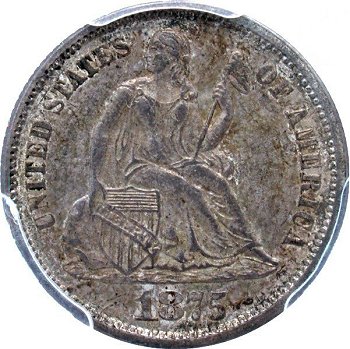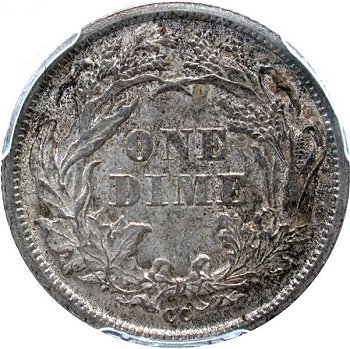 Obverse 2 Reverse A
Obverse Diagnostic Point(s) Reverse Diagnostic Point(s)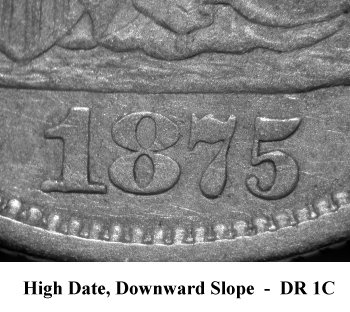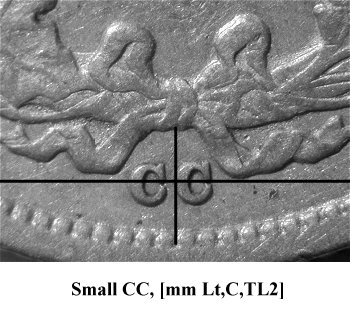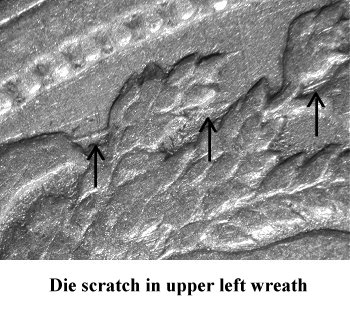 Comments: Obverse 2 is found in an early and perfect die state when first paired with Reverse A. The obverse die begins to develop radial die cracks while striking coinage with Reverse A and this interim die state will be labeled as Variety 102a. Please see Variety 102a for mapping of progressive Obverse 2 die cracks.
Previous/Subsequent Die Pairings - Below Wreath Obverse 2
After the Variety 102 and 102a die pairing, Obverse 2 is used to strike In Wreath dimes and is paired with two separate reverse dies. These dies are designated as IW Reverse E and Reverse F. Please review the 1875-CC In Wreath chapter whereby BW Obverse 2 as redefined as IW Obverse 7. The progressive die cracks will become immediately evident during the two pairings with In Wreath reverse dies.
Previous/Subsequent Die Pairings - Below Wreath Reverse A
On Reverse A, a die scratch is visible in the upper left wreath, behind wheat grains, and is an additional diagnostic point. I know of no additional die pairings with this reverse die, other than BW Obverse 1, and I have not seen a later die state example with prominent die cracking. More research is required to determine if Reverse A saw subsequent die pairings.
Plate Coin: G. Fortin Collection, PCGS AU58 CAC