1875-CC
CC Below Wreath
Variety 103
Obverse 3: High Level Date, Die Cracks
Reverse B.2: Small CC, [mm C,L,TL2], Die Crack Through Mintmark, Rim Cud 5:30 - 6:30
Collar: 113 Reeds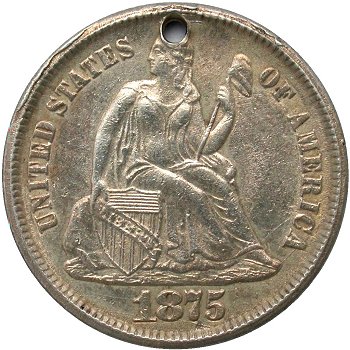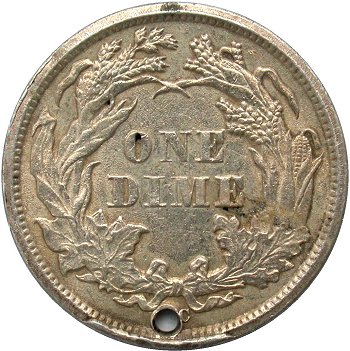 Obverse 3 Reverse B.2
Obverse Diagnostic Point(s) Reverse Diagnostic Point(s)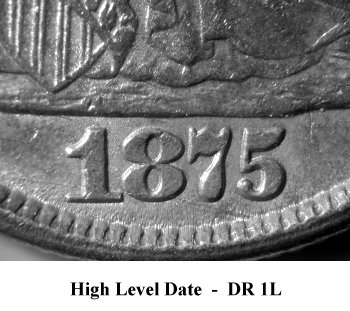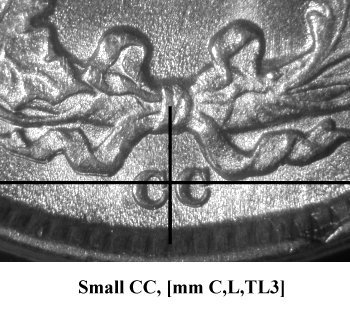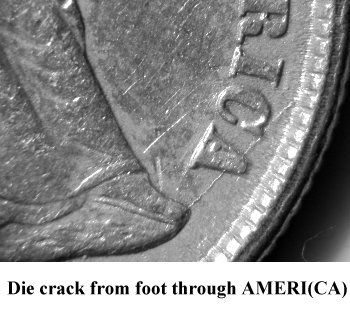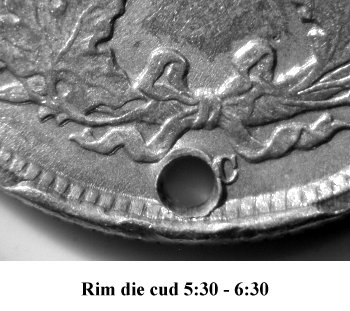 Comments: Obverse 3 is cracked with the most prominent die crack starting from the rim to the left of the date and proceeding through the bottoms of the 18 digits and exiting to the rim below the 5 digit. Another die crack starts from the foot up through AMERI(CA). An additional faint final die crack connects the bottoms of (OF AMER)ICA with the cap. Obverse 3 shows significant erosion and has undoubtedly seen prior usage.
Reverse B features a bold rim cud from 5:30 to 6:30 below mintmark and ribbon ends. My apology for the reverse rim cud image with the large hole.
Previous/Subsequent Die Pairings - Below Wreath Obverse 3
During an early die state, Obverse 3 was previously paired with IW Reverse I (and listed as IW Obverse 9) and exhibited a faint die crack below the date digits and a die crack from Liberty's foot into AMER(ICA). During the final Obverse 3 die pairing with BW Reverse D, the obverse die shatters directly below the date die crack resulting is a spectacular die cud.
Previous/Subsequent Die Pairings - Below Wreath Reverse B
Reverse B, during an earlier die state was previously paired with two Below Wreath obverse dies. During those pairings, Reverse B exhibited a long vertical group of die lines between DIM(E) and right wreath. However, those die lines are no longer visible during this later die state. Please see BW Varieties 105 and 111 for images of Reverse B during its earlier die state.
Plate Coin: G. Fortin Collection, AU Details