1875-CC
CC Below Wreath
Variety 104
Obverse 4: Late Die State, High Date, Downward Slope
Reverse C: Small CC, [mm Lt,L]
Collar: 113 Reeds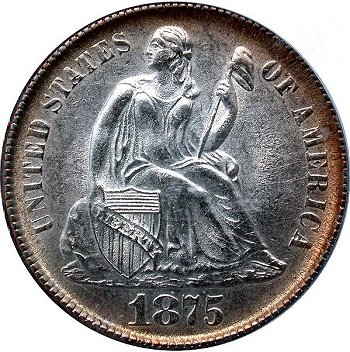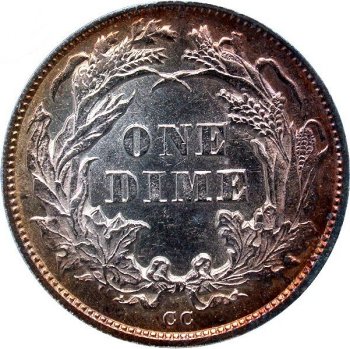 Obverse 4 Reverse C
Obverse Diagnostic Point(s) Reverse Diagnostic Point(s)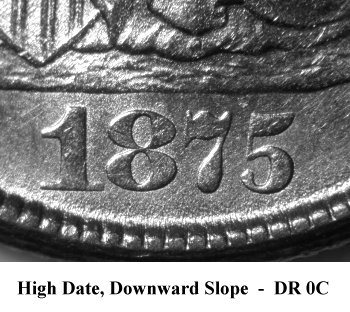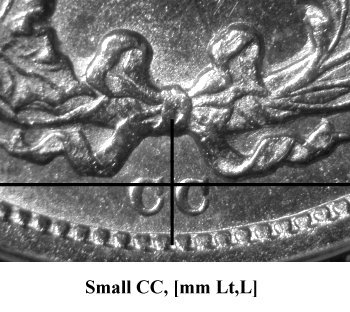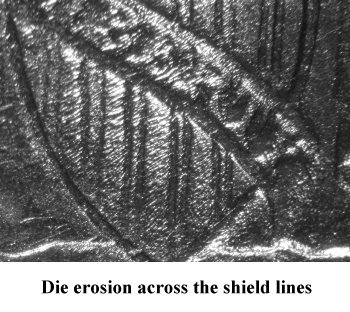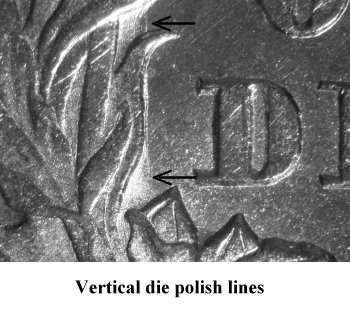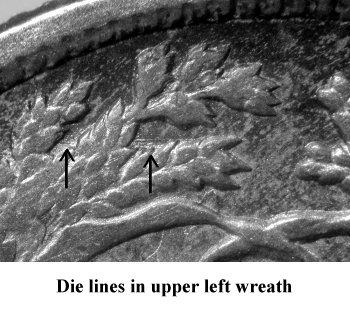 Comments: Obverse 4 shows significant erosion on the denticles and within the shield. Reverse C has a low and level mintmark and appears to be in a very early die state when paired with Obverse 4. There is a large vertical die polish line through the inner left wreath opposite (D)IME and a horizontal set of subtle die lines in the upper left wreath. Please use the die lines in conjunction with the mint mark positioning to properly attribute Reverse C.
Previous/Subsequent Die Pairings - Below Wreath Obverse 4
BW Obverse 4 was first paired with IW Reverse G and labeled as IW Obverse 8. It remains paired with IW Reverse G into a later die state where significant denticle erosion under the date shifts the Denticle Ruler measurement from DR 0C to DR 0R. During this later die state, BW Obverse 4 is paired with two incremental Below Wreath reverse dies to produce this variety and BW Variety 105.
Previous/Subsequent Die Pairings - Below Wreath Reverse C
Reverse C is first paired with BW Obverse 4 followed by a pairing with BW Obverse 5. While paired with Obverse 5, Reverse C continues to degrade and develops a significant die crack in the lower left wreath that will eventually become a full retained cud during terminal die state. Please see the listings of Variety 106a and Variety 106b for the die's end of life sequence.
Plate Coin: G. Fortin Collection, PCGS AU58 CAC