1875-CC
CC In Wreath
Variety 103
Obverse 3: High Date, Downward Slope, Die Defect on Mid Section
Reverse A.2: Small CC, [mm C,L], Die Crack In Upper Right Wreath
Collar: 113 Reeds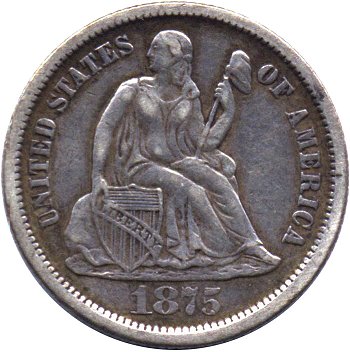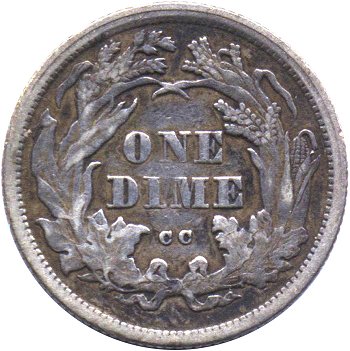 Obverse 3 Reverse A.2
Obverse Diagnostic Point(s) Reverse Diagnostic Point(s)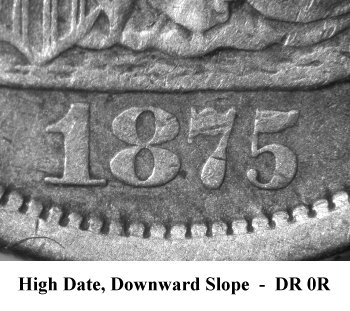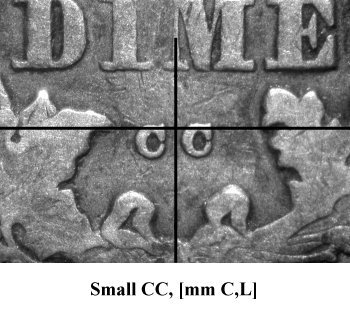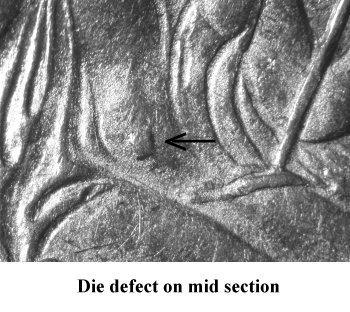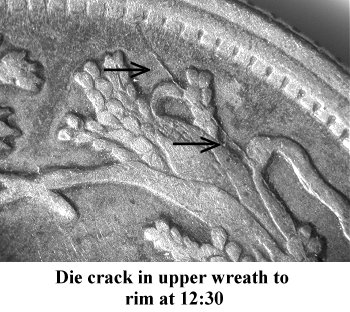 Comments: The date punch on Obverse 3 is weaker than most other 1875 Carson City dies. Ahwash defined the Obverse 3 distance from the base to date as "Medium" in his encyclopedia. I believe that the distance from base to date is better expressed as "High Date" and have labeled Obverse 3 accordingly. An obvious blob sized die defect is located on Liberty's mid section.
Reverse A is now in an interim die state and continues to develop a small die crack in the upper right wreath that exits to the rim at 12:30.
Previous/Subsequent Die Pairings - In Wreath Obverse 3
Obverse 3 is paired with three different In Wreath reverse dies and a single Below Wreath reverse before being retired. During its initial pairing with IW Reverse H (Wide CC Mintmark - Variety 112), IW Obverse 3 is found in an early die state with no diagnostic points other than date position and a large blob die defect on Liberty's mid section. Following pairing include this listing with Reverse A, Variety 104 IW Reverse B and Varieties 107 and 107a with BW Reverse D. During the last die pairing with a Below Wreath reverse, the obverse die is labeled as BW Obverse 6.
Previous/Subsequent Die Pairings - In Wreath Reverse A
Reverse A was previously paired with IW Obverse 1 and Obverse 2. It will continue to progressively crack while being paired with one additional obverse die. See Variety 105 (IW Obverse 4) as the near terminal die state for IW Reverse A.
Plate Coin: G. Fortin Collection, EF40