1875-CC
CC In Wreath
Variety 105
Obverse 4: High Date, Slight Downward Slope
Reverse A.3: Small CC, [mm C,L], Die Cracks In Wreath
Collar: 113 Reeds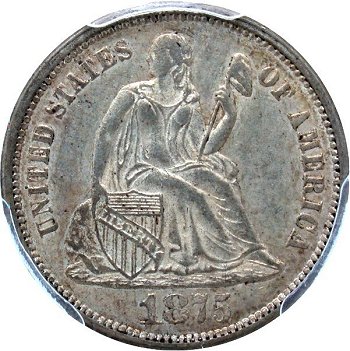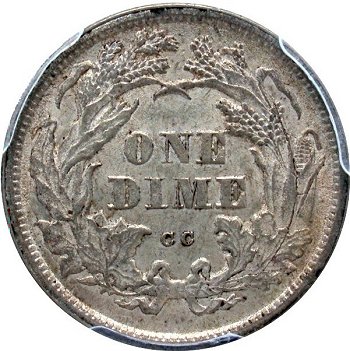 Obverse 4 Reverse A.3
Obverse Diagnostic Point(s) Reverse Diagnostic Point(s)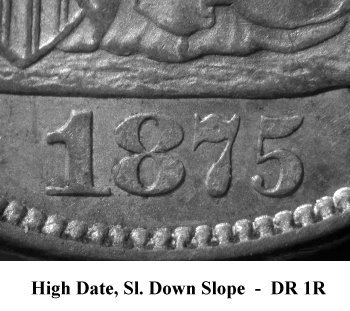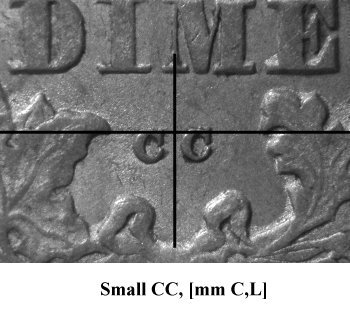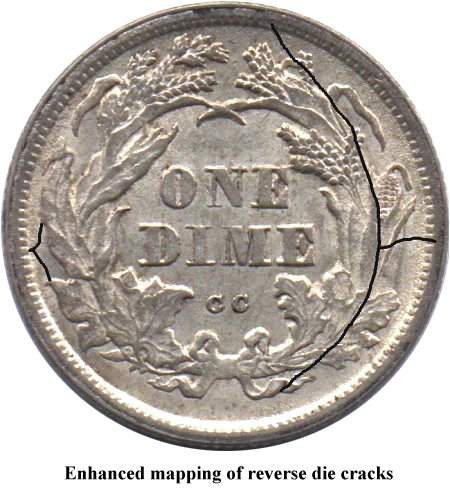 Comments: Variety 105 results from the die pairing of Obverse 4 and Reverse A. On Obverse 4, the date punch is positioned high with a slight downward slope.
Reverse A has cracked further, with a long circular die crack throughout the right wreath. Die cracks are starting to appear on the left side of the die at 9:00. Use the right side die crack as the primary diagnostic.
Previous/Subsequent Die Pairings - In Wreath Obverse 4
This is the single In Wreath die pairing for Obverse 4. Afterwards, IW Obverse 4 will be paired with three different Below Wreath reverse dies. During the Below Wreath die pairings, this obverse is relabeled as BW Obverse 7. Please see BW Varieties 108, 109 and 110 listings for incremental information concerning this obverse die.
Previous/Subsequent Die Pairings - In Wreath Reverse A
IW Obverse 4 is the fourth obverse die to be paired with IW Reverse A, which is in an interim die state during the IW Variety 105 pairing but quickly degrades into a near terminal die state during IW Variety 105a. Previously, IW Reverse A was paired with IW Obverse 1, 2 and 3.
Plate Coin: G. Fortin Collection, PCGS MS61