1856
Small Date
Variety 118a
Obverse 16.2: Misplaced 8 Digit Below Base, Cracked Die, Severe Die Pitting, Medium Level Date, Closed 5
Reverse R: Perfect Die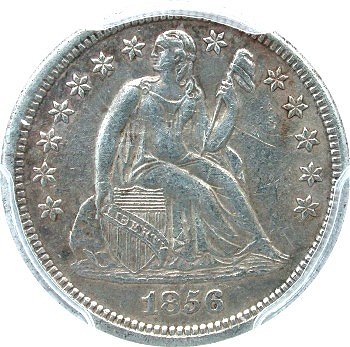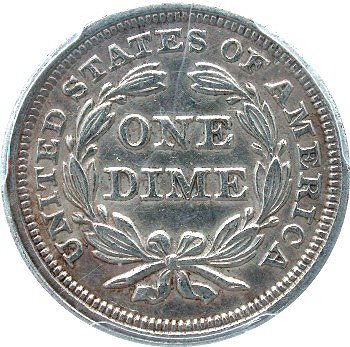 Obverse 16.2 Reverse R
Obverse Diagnostic Points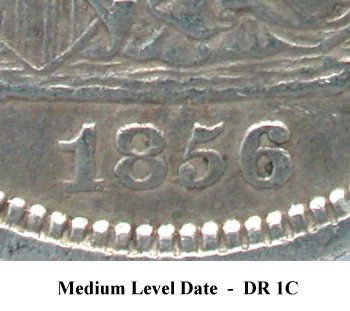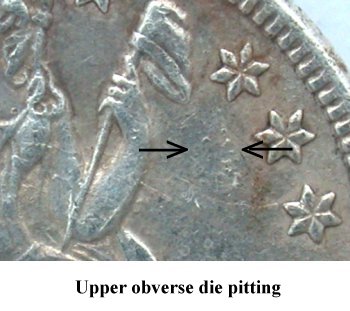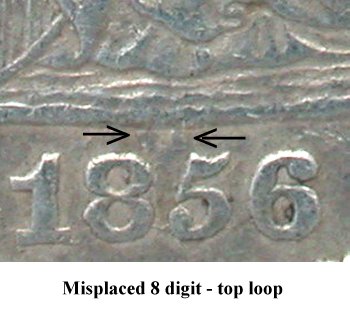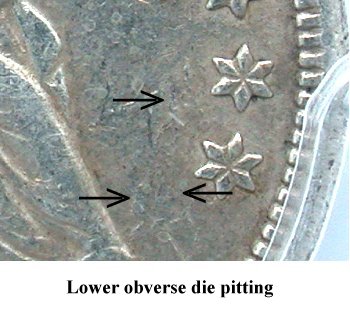 Comments: Variety 118 has proven to be elusive after years of searching. During September 2017, Mike Mucedola identified an 1856 Small Date dime with die cracks from the rock through Stars 1 through 5. Since the die cracks were not mentioned for other 1856 Small Date varieties, the dime was sent to the author for evaluation. What a surprise when first viewing the Mucedola specimen. Not only were there die cracks through the left obverse stars, but also major die pitting in the upper right and lower rights fields. This pitting had never been seen before on an 1856 dime.
The Mucedola example is very well struck for an 1856 Small date dime. The bold strike revealed two lumps protruding from the bottom of the base and in between the 8 and 5 digits in the date. Inspection with stereo microscope leads the author to believe these lumps are the left and right segments of the upper loop of the 8 digit.
The fascinating die variety and die state is initially assigned a rarity rating of R6.
Plate Coin: Courtesy Dr. Tim Cook Collection, PCGS EF45