1876
Type II Reverse - Variety 101
Obverse 1: Medium Date, Slight Downward Slope, Small Knob 6
Reverse A: Die Cracks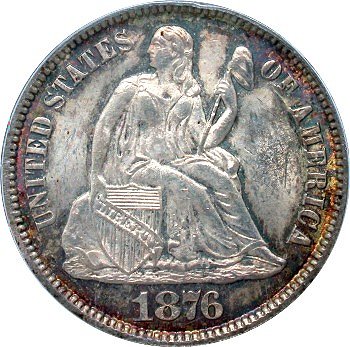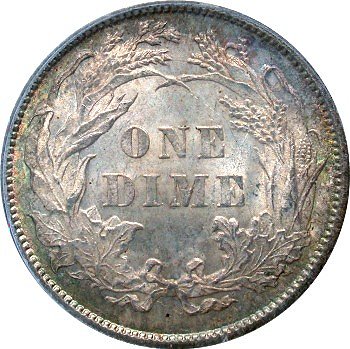 Obverse 1 Reverse A
Obverse Diagnostic Point(s)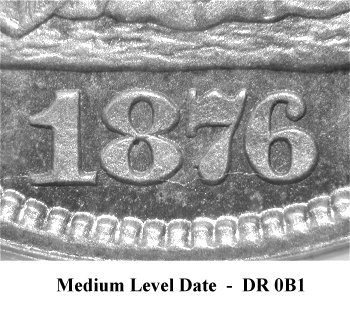 Reverse Diagnostic Point(s)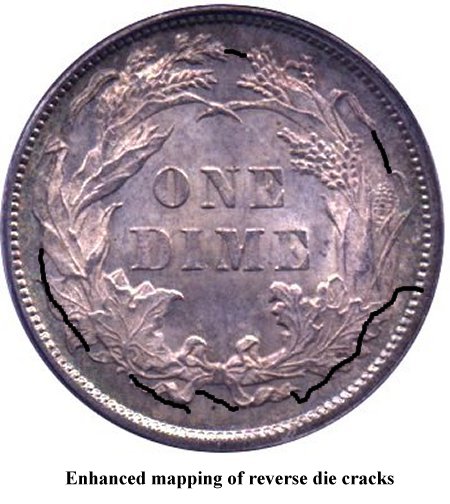 Comments: I have found the Variety 101 Type II die pairing to be more available than other 1876 Type II varieties. There is a faint die crack through the bottom of the date digits. Obverse 1 has a few random die lines in the lower gown area. None were significant enough to photograph. Use the Obverse 1 date position coupled with a Type II reverse die to identify this variety.
The number of examples available allowed for detailed mapping of the Type II Reverse A die states. Earlier die states will show die cracks as illustrated above.
Bold strikes with strong head details are typical for 1876 Type II reverse dimes.
Plate Coin: G. Fortin Collection, PCGS MS63 CAC