1876
Type II Reverse - Variety 102
Obverse 2: Medium Date, Slight Downward Slope, Small Knob 6
Reverse B: Irregular Letters in DIME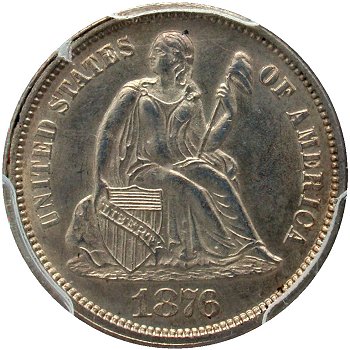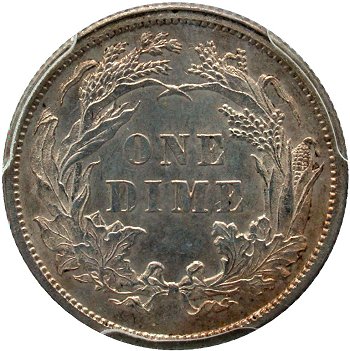 Obverse 2 Reverse B
Obverse Diagnostic Point(s) Reverse Diagnostic Point(s)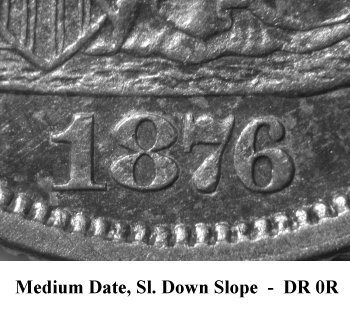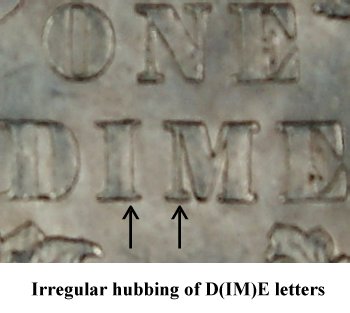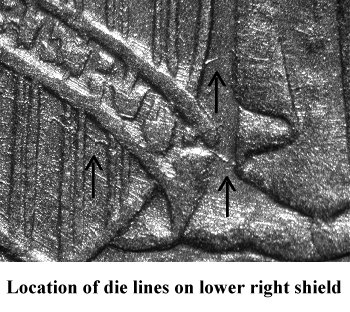 Comments: Ahwash describes his A-5 variety as a Small Knob 6 obverse paired with a Type II reverse, but no plate coin is shown. He further documents a shield position of SP-7.0, broken (S)TATES and (O)F and a date that is level and medium distance from the base. Obverse 2, as presented above, matches the Ahwash descriptions except for the date having a slight downward slope which may have been overlooked by Ahwash. On Obverse 2, there are several minor die lines exiting the lower right shield as shown above. The 8 digit in the date is centered over an obverse denticle.
An inspection of Reverse B reveals no obvious diagnostic other than the irregular hubbing of DIME in the denomination. Note that the D(I)ME is not level with the right side of the letter being higher than the left. The DI(M)E is also irregular with the left side of letter being higher than the right side.
It is believed that Variety 102 is the most difficult to locate of the six known Type II die pairings though the recently discovered Variety 106 die pair needs more research. I would rate this variety as R4+ in EF or better.
Plate Coin: G. Fortin Collection, PCGS MS62