1876
Type II Reverse - Variety 105
Obverse 5: Medium Level Date, Large Knob 6
Reverse E: Cracked Die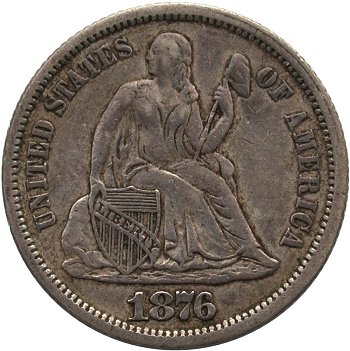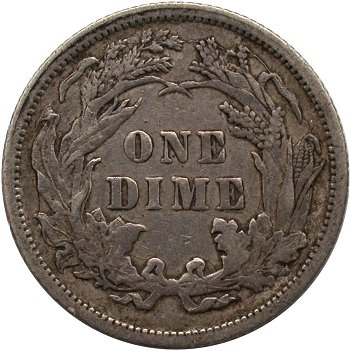 Obverse 5 Reverse E
Obverse Diagnostic Point(s)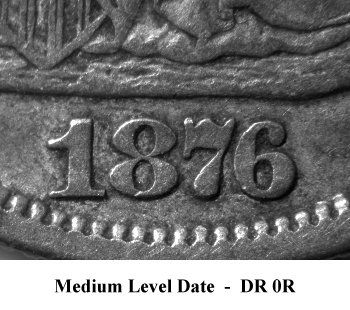 Reverse Diagnostic Point(s)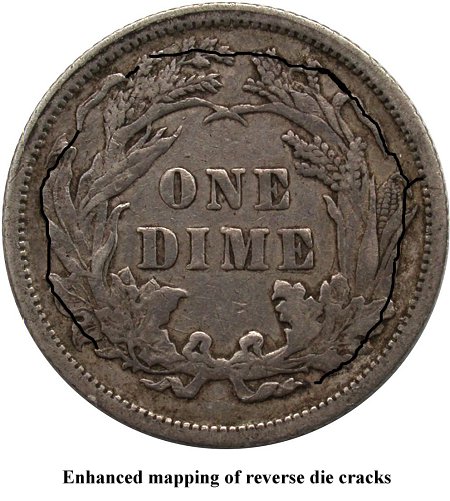 Comments: Kam Ahwash's listing for this variety has no illustration. Instead he indicates that the obverse has a Large Knob 6 and a medium level date. During late 2006, a new 1876 Type II reverse dime variety was located. After examining the Ahwash commentaries for Type II reverse dimes, the new variety appeared to be a good match for Ahwash 8.
On Obverse 5, the date punch is level with medium height to the base while the 6 digit is from a Large Knob 6 date punch. Date position measurement is DR 0R.
Die cracks are seen on Reverse E plate coin. In his Encyclopedia, Ahwash indicated that the reverse was perfect on his observation piece. The above plate coin exhibits important die cracks for attribution that could be from a later die state than the Ahwash coin.
Plate Coin: G. Fortin Collection, EF45