1852
Variety 105
Obverse 4.2: Repunched 52, High Level Date, Die Cracks
Reverse E: Die Lines Rim Through (AM)ERICA to Wreath, Die Crack Tops of UNIT(ED S)TATES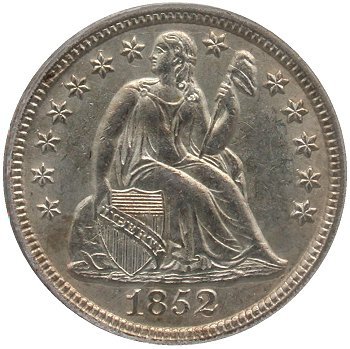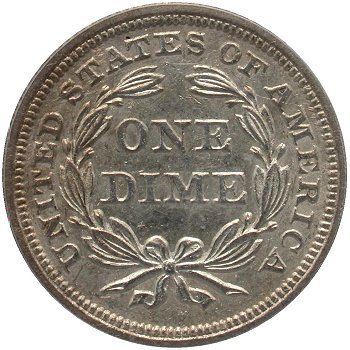 Obverse 4.2 Reverse E
Obverse Diagnostic Point(s) Reverse Diagnostic Point(s)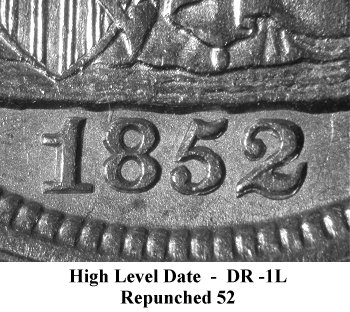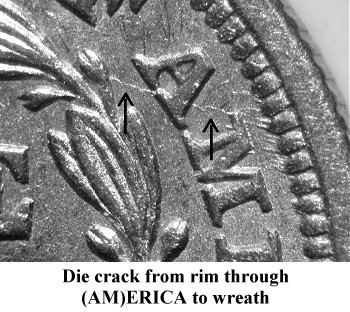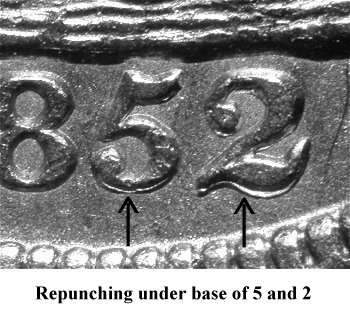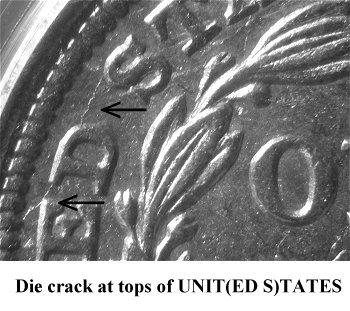 Comments: This is the third and more common reverse die pairing with the repunched 52 obverse. The previous die pairing were with Reverse D and Reverse O. These latter die pairings are difficult to locate.
Obverse 4 shows signs of die degradation with a die crack forming at the top of Liberty's head and down through Star 8, the Liberty cap and Star 9. See Variety 105a listing for a macro photo of this die crack.
Reverse E has several key diagnostics that allow quick differentiation from Reverse D and Reverse O. Immediately noticeable is the strong legend. A die line originates from the rim to the right of M and proceeds through (AM)ERICA then to the rim. Several die lines are evident between A(M)ERICA and the rim. A faint die crack is seen at the tops of letters UNIT(ED S)TATES. This die crack will degrade quickly and produce a retained cud during the die's terminal die state.
Plate Coin: G. Fortin Collection, AU58 - Greer Plate Coin