1852
Variety 119
Obverse 12: Peripheral Die Erosion, Date Furthest Left, High Date, Downward Slope
Reverse P: Die Cud at (UNI)TED, Peripheral Die Erosion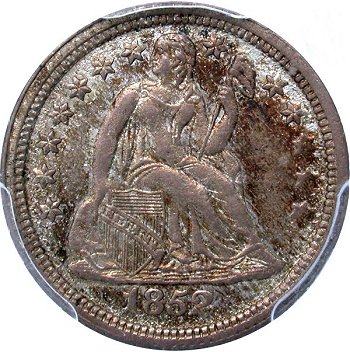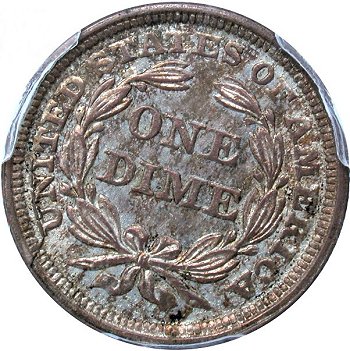 Obverse 12 Reverse N
Obverse Diagnostic Point(s) Reverse Diagnostic Point(s)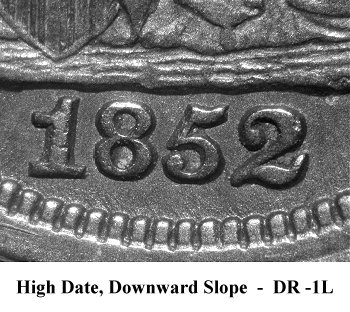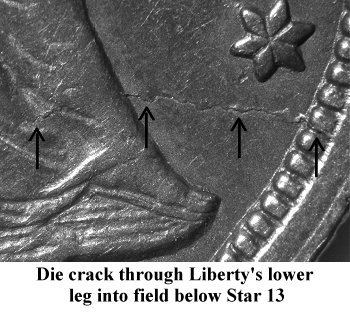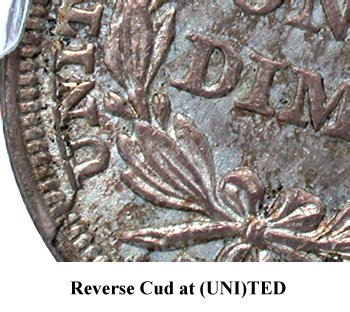 Comments: A unique 1852 die pairing that is presently considered to be R7 rarity. Both dies are found in late die states with damage. The obverse is from the Variety 114 die pairing with date punched furthest left. The die crack from Liberty's lower leg to denticles below star 1 also extends left into the gown folds above the pendant. Peripheral obverse die erosion is acute between stars, and date punch to the denticles.
The reverse has an elevated cud at (UNI)TED to rim. This cud appears to be in an early die state on the Variety 116 reverse. A no question gem with frosty luster and unabraded surfaces. Pitting between the stars and denticles is due to die rust or metal spalling. Earlier die state examples will be necessary for a more comprehensive confirmation. But do they exists? Was this die pairing an accident at the Philadelphia mint? There are many questions to be asked and answered for this newly discovered die variety.
Variety 119 was first identified by David Sunshine and brought to the author's attention during March 2020 for attribution.
Plate Coin: Courtesy Tim Cook Collection, PCGS MS62 CAC