1877-CC
Type II Reverse - Variety 120a
Obverse 15: Die Scratch Through Liberty's Neck and Shield, MPD In Base, Medium Level Date
Reverse N.2: Shattered and Excessively Lapped Die, Small CC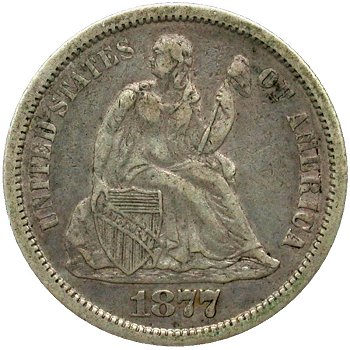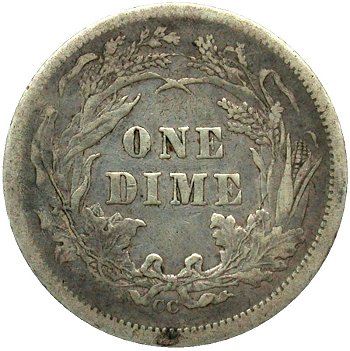 Obverse 15 Reverse N.2
Obverse Diagnostic Point(s) Reverse Diagnostic Point(s)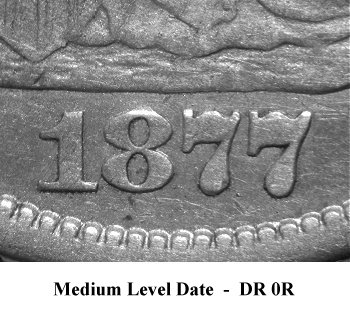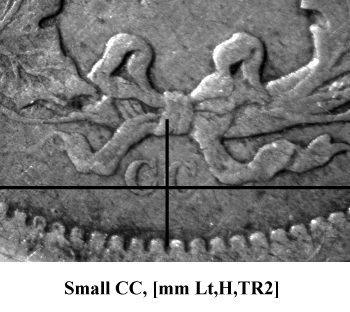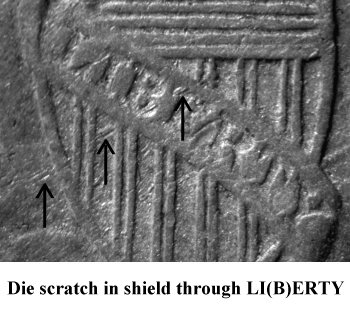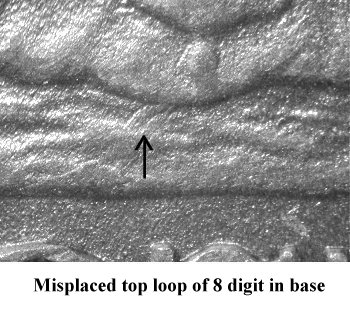 Comments: Sub variety 120a captures the die pairing of Obverse 5, 1877-CC Type I Reverse with an excessively lapped and shattered Type II reverse die.
Obverse 15, when paired with this Type II Reverse N, continues to show its primary diagnostics; large die scratches through Liberty's neck and through the shield. Carefully inspection of the plate coin also confirm the presence of the misplaced top loop of an 8 digit in the base below the pendant.
Excessive lapping on Reverse N has removed the left ribbon end and much of the lower left ribbon end details. The revere die has a concave appearance since the denomination in the die's center remains bold while peripheral edge details are weak. At first glance, a die variety specialist might consider this die to be Type II Reverse L, which is also excessively lapped and features a high mintmark. However, carefully review of the mintmark positions on both Reverse L and Reverse N indicate two different dies. See below comparison which indicates that the mintmark on Reverse L tilts left while the mintmark on Reverse N tilts right.
Plate Coin: G. Fortin Collection, VF30