1876-CC
Type II Reverse - Variety 101
Obverse 1: Medium Level Date, Repunched 6 Digit, Small Knob 6
Reverse A: Small CC, [mm Lt,C,TR1], Die Crack Through Mintmark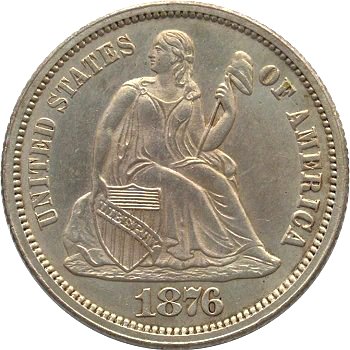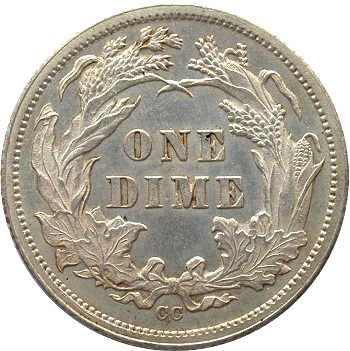 Obverse 1 Reverse A
Obverse Diagnostic Point(s) Reverse Diagnostic Point(s)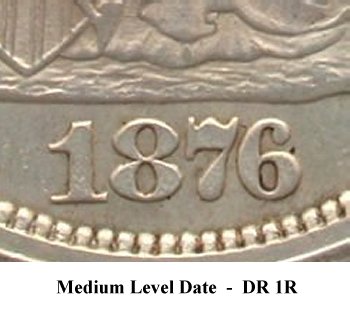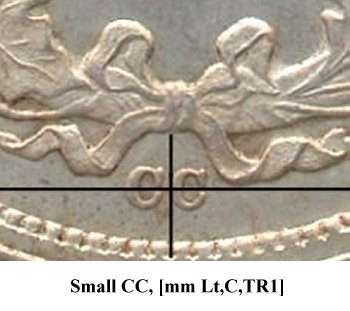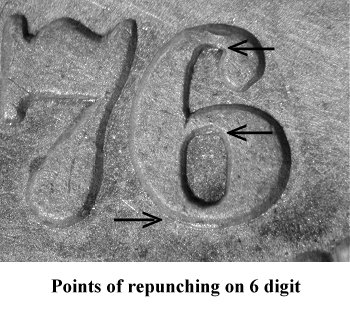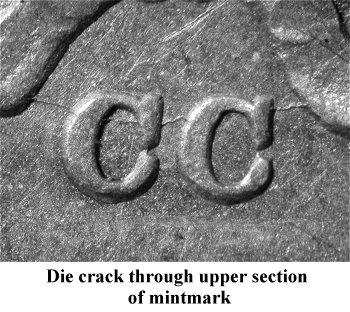 Comments: The obverse die paired with the lone 1876 Carson City Type II reverse comes extremely well struck. There is repunching on the 6 digit. The repunching can be found below the base of the 6 digit. There is also faint repunching below the upper and middle loops. A faint die crack runs from the left ribbon through the upper section of the mintmark letters and into the right ribbon and leaf.
Bill Fivaz first published the repunching on the 6 digit in the March 1991 issue of the Gobrecht Journal. The macro photographs were taken from an AU55 example from Jim Smith. My two Mint States pieces do not show the repunching as boldly as on the Bill Fivaz or Jim Smith coins.
The 1876-CC Type II reverse variety is scarce in any grade. Greer points out that "Surprisingly, at least five mint state Type II examples are known". Over the years, I have probably seen an even amount of circulated and mint state examples of this variety. Mint state pieces will be found either frosty or lightly proof like with most being frosty. During a 2013 conversation with Brian Greer, we discussed this observation. Brian commented that the proof like pieces could be a function of polished planchets as compared to frosty examples resulting from unpolished planchets.
Plate Coin: G. Fortin Collection, MS63
1876-CC Type II Reverse Varieties 101