1876-CC
Type I Reverse - Variety 121
Obverse 17: Proof or Specimen Die, Medium Date, Slight Upward Slope, Small Knob 6
Reverse P: Proof or Specimen Die, Small CC, [mm Lt,L,TL4], Doubled ONE DIME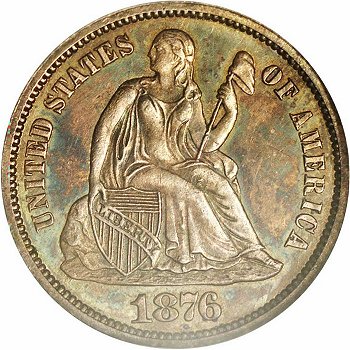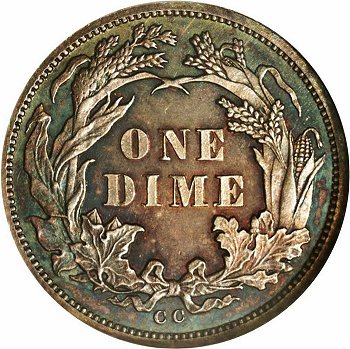 Obverse 17 Reverse P
Obverse Diagnostic Point(s) Reverse Diagnostic Point(s)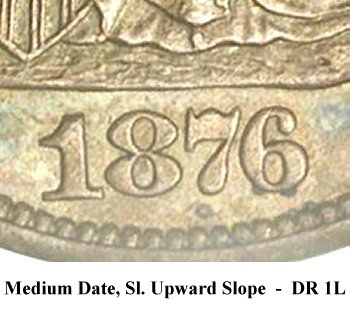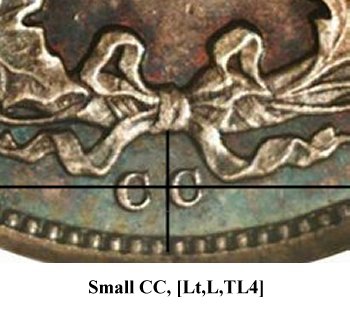 Comments: Excerpts from the Heritage Auction Archives description;
1876-CC 10C MS65 Specimen NGC. Struck from the Type One reverse hub, the surfaces on this piece are indistinguishable from a Philadelphia Mint proof of this era. The fields are deeply mirrored and there is no trace of cartwheel around the devices. Likewise, the striking details are fully brought up in all areas. The rims are even and squared off with complete denticulation on each side. We do not know the occasion for striking this coin, but we can safely speculate that it was probably tied to Centennial celebrations in Nevada in the summer of 1876. Each side of this important coin is covered with deep, variegated golden, cerulean blue, lime-green, and gray toning. As for distinguishing marks that could be used for pedigree purposes, the only one that might be used is a small contact mark on Liberty's bent arm near the elbow.
In the Heritage Auction Archives description, the assumption was made that the above reverse die was the Greer Reverse A / Fortin Reverse E. A close review of the mintmark scans shows that this is not the case and I have eliminated those references in the Heritage excerpt. Instead this reverse die is listed separately as Reverse P by the author. This die pair will be used for business strike. See Variety 121a.
1876-CC F-121 NGC Specimen SP65
Stack's Bowers Lot 11324 - August 2012 ANA Sale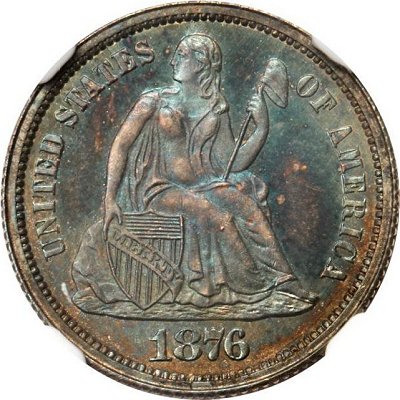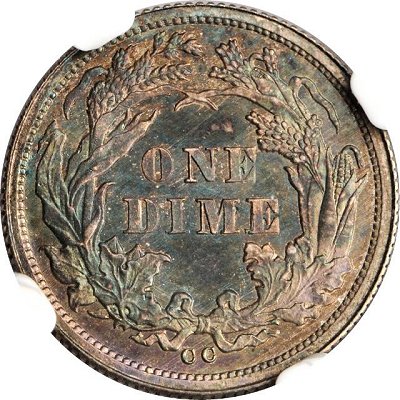 Another Specimen SP65 F-121 example appeared at the Bower's Stacks August 2012 ANA sale. The obverse and reverse die diagnostics well match those from the Heritage Auction Archives example. Please note the obverse dot on Liberty's left knee area as an incremental diagnostic point. Though both specimen dimes are graded NGC SP65, the toning patterns appear to be different along with the missing contact mark on Liberty's bent elbow on the Heritage dime suggest two different examples struck from highly polished dies.
Plate Coin: Heritage Auction Archives, NGC Specimen SP65
1876-CC Type II Reverse Varieties 101