1876-CC
Type I Reverse - Variety 106
Obverse 5: Doubled Obverse Die, Medium Level Date, Large Knob 6
Reverse E: Small CC, [mm Lt,L], Doubled ONE DIME, Greer Reverse A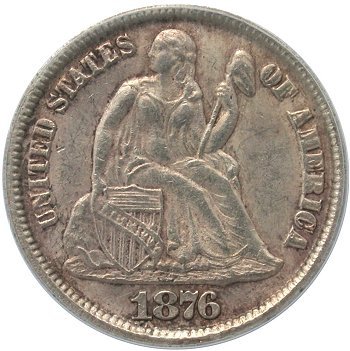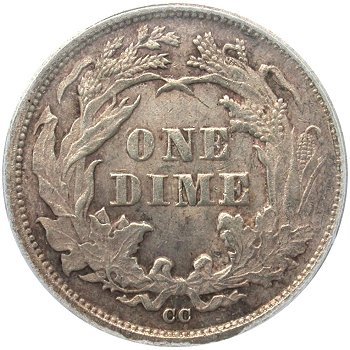 Obverse 5 Reverse E
Obverse Diagnostic Point(s) Reverse Diagnostic Point(s)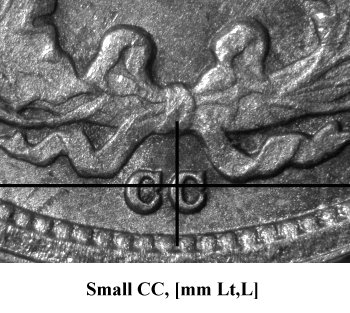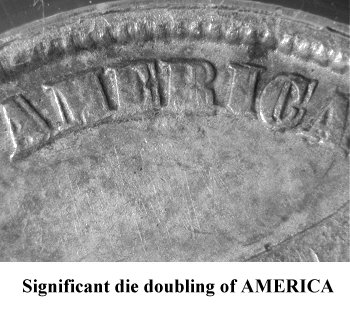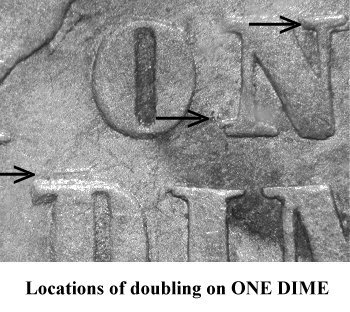 Comments: Obverse 5 is in an interim die state and paired with a second reverse die, Reverse E. Note from the plate coin that Obverse 5 devices have become less distinct. This observation is best seen by studying Liberty's head details and shield lines on the lower left shield.
Reverse E is easily recognized by a level CC mintmark with the denomination being doubled. The right side of the wreath including open corn ear is weak near the rim.
Greer indicates that "This die combination is not as scarce as Reverse C (Fortin Variety 105), but in grades of XF or better it appears to be the rarest of the three. Extremely scarce above VF."
Plate Coin: G. Fortin Collection, PCGS AU58
1876-CC Type II Reverse Varieties 101